Welcome to Columbia Two Speed Parts
We sell many of the hard to find parts you are looking for, specializing in
Reproduction Repair Axle Parts and Controls for the Columbia Overdrive Two Speed Axle< for Ford V-8 & Mercury 8 1935 - 1948
Reproduction Repair Axle Parts for Lincoln-Zephyr V-12 1935 - 1948
See our ad in V-8 Times award winning magazine of the Early Ford V8 Club of America, Inc., and please call for more info!
REPRODUCTION REPAIR PARTS & CONTROLS
We are committed to providing these important components for enthusiasts in this hobby. We can help with parts like this B-3 Control Valve for 1937-41 Ford & Mercury V-8's ! We also have B-1 & B-2 control valve for earlier models. Services include repairs & rebuilds too.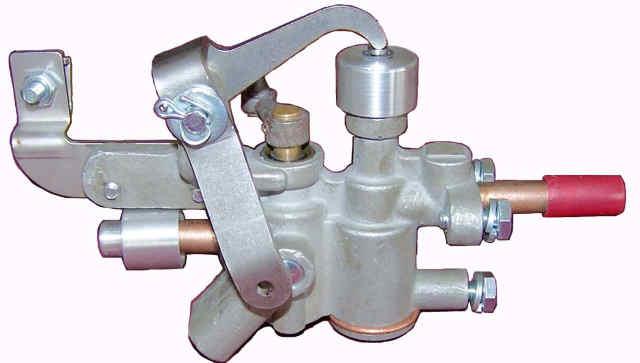 The B-3 Valve Assembly shown is manufactured utilizing the highest standards possible. The valve body is made from cast aluminum, then it is precision machined and assembled with newly manufactured reproduction parts to duplicate the original control valve. (The B-3 shown can be modified to fit a Lincoln-Zephyr.) Call for more info.
We now have period correct 1933-34 Controls available!
An Exploded View of the Columbia Axle Housing & Internal Assembly parts is included in our Price List, and Installation Instructions and Parts Lists are available by year of your car. We also have an Owner's Manual/PRIMER for those who want to understand the Columbia better.
We sell over 80 repair/replacement and control parts. In addition, our services also include: welding and machining the axle housing & installing A-1-S repair sleeve.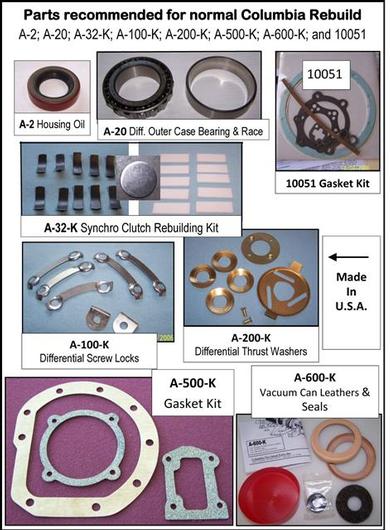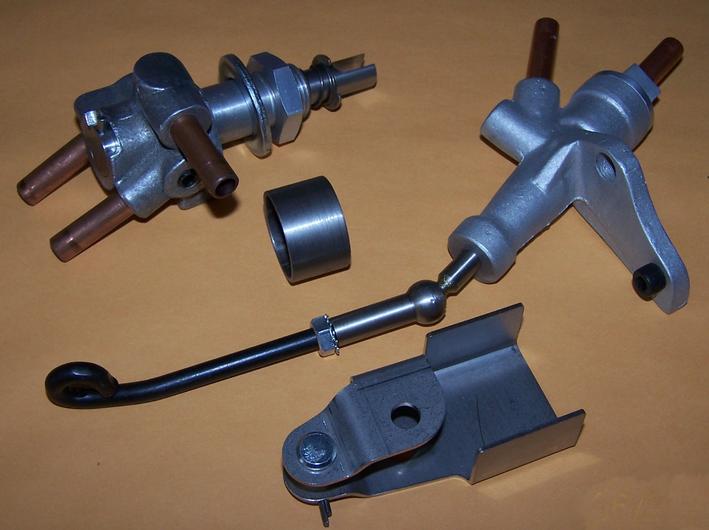 NOTE: Some parts of the kit shown above are not currently available. Please call us for details.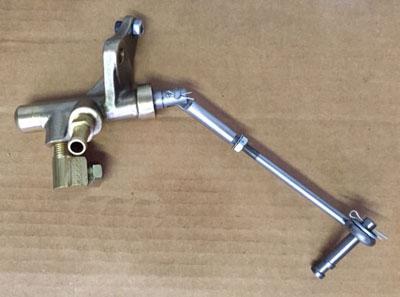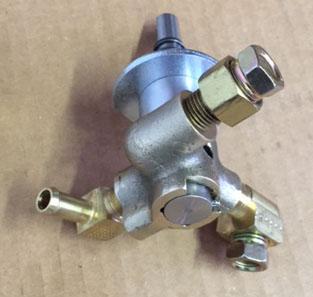 Call for more information: (951) 719-4077

Mon. thru Friday 9am - 5pm West Coast Time
CARE & MAINTENANCE OF YOUR COLUMBIA
We cannot overemphasize how IMPORTANT it is to properly maintain your Columbia overdrive unit. Please, take the time to learn how to care for and operate your beautiful Columbia Overdrive Two Speed Axle !!!
Purchase our exclusive PRIMER (Owner's Manual expanded to include photos and information on the different control systems for different years of cars) . . . and/or call for information.
PLEASE NOTE: Check with us if someone trying to sell you parts (or unit) claims that we have rebuilt their unit. We have heard about such claims when we have only done the bulletproofing. Give us a call and we will let you know if we rebuilt the entire Columbia or not.
Columbia Two Speed Parts, LLC.
PO Box 1587
Cottonwood, AZ 86326
Email: columbiatwospeed@gmail.com
Please do not ship to us without calling first to get our new Ship-To address!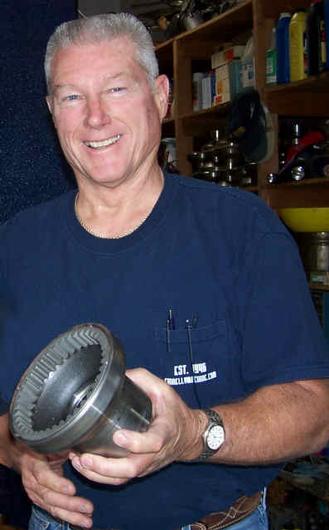 We Carry the Following Parts
Columbia Housing Assembly & Repair Parts
Vacuum Cylinder & Base Assembly for all models
1933-34 Ford Control Parts & Brackets
1935-36 Ford Control Parts & Brackets
1937-41 Ford & Mercury Control Parts & Brackets
1946-48 Ford & Mercury Conrol Parts & Brackets
Call or Email for a current price list (includes and exploded view of unit)
Miscellaneous
A-20-F Ford-Side Bearing & Race
B-3-X Control Valve for Street Application
B-37-K Speedo Adapter gasket Kit
B-37-TA Speedo Thread Adapter, Male-to-Female
B-49K Manifold Spacer Kit w/Gasekts & 3 studs for 1935-41F; 1939-4 Merc
Columbia Overdrive DECAL for your windshield Instructions for Installation (need year of your car)
Parts Lists (need year of your car)
Enamaled MEDALLION for license plate
PB-1 Pinion Bearing Set, includes lock plate
A-35/36K Oil Baffle Upper & Lower
TK Tubing Kit: 3/8" copper & neoprene
Services
Bulletproofing

Inspection

Resleeving Axle Housings

Modify Axle Housing

Modify Cross

Welding

Machining

Repairing / Rebuilding Components